If you are looking for your pet, please check back here OFTEN as LOST/FOUND animals are posted continually and as soon as possible after information is received by the webmaster. Check the bottom of this page for tips on how to find your lost dog.

Do you have a Facebook Account?
If so, you can post Lost/Found animals via "Lost/Found/Free Pets Nelson County, VA"

Contact Animal Control and Almost Home
This does not replace the need for people to contact Nelson County Animal Control at 434 263-7047 AND Almost Home at 434 263-7722 to report lost and found animals and to continue with follow-up calls. Also, Charlottesville SPCA at 434 973-5959 & Lynchburg Humane Society at 434 448-0088.

Report A Lost/Found Pet on the PawBoost-powered Facebook Page using the following link: https://www.pawboost.com/

NOTE: For animals that are lost or found in Wintergreen, I recommend sending an email to the Wintergreen Valley Association at info@wintergreenvalleyassociation.org and also provide them with information and a picture of the animal. They will send out an email to Wintergreen residents.
---
LOST MARCH 24 2020 - WINTERGREEN -
medium sized dog named Tucker went missing in Wintergreen last night. If found, please contact Angela Marie Faris at 540 241-1278
---
REWARD -- LOST MAR 22, 2020 - POWHATAN, VA -
My dog, Tanner, ran away from TNT Dog Training in Powhatan, VA on Sunday, March 22 at 6:30 am. I have put up flyers and searched for him for a week and contacted the local animal shelter. I thought I would reach out to all of you (even cat shelters) in case he has travelled (or been taken) and you have seen him. I am desperate. He is a 5 lb., tan (light brown) Pomapoo and was wearing a black and grey collar with his name "Tanner" on it and my phone number (804) 350-6906 or 804 837-4813. If you know anything about him, please contact me ASAP. There is a $1000 reward being offered.
---


FOUND MARCH 20, 2020 - NORWOOD RD/ST. NELSON COUNTY --
This dog was found on 3/20/20 turned in Amherst Animal Control then back to our shelter on Friday. He was found on Norwood St. or Rd in Nelson County. He is a sweet, not neutered, and has a shoulder injury. For more information, please call our shelter at 434-263 7722. Thanks.
---
FOUND MAR 14, 2020 ON ROCKFISH VALLEY TRAIL, NELLYSFORD --
This dog is very friendly... collar but no tags. Looks like an adult beagle mix. I can be reached at 703-930-8347 or
tobeyjackson@yahoo.com
---

UPDATE: FEB 18, 2020 -
Sterling was apparently hit by a car and killed. I thank you all for your concern and looking out to try and find him. Our family is deeply saddened by this but are appreciative of the closure and knowing he is in a better place.

LOST FEB 10, 2020 - ARRINGTON, VA --
Our MICROCHIPPED gray short haired male tabby went missing around 02/10/20. He is around 2 years old and his name is Sterling. We live in Arrington, VA and my # is 434-760-5745. Please leave a message if there is no answer.
---

FOUND JAN 25, 2020 9:30 am - Rt. 29 - LOVINGSTON --
We found this adorable old dog on Rt. 29 South - 14 miles north of Lovingston. We took him to the Shenandoah Valley Animal Services Center as it was the only place open. The number for the shelter is 540-943-5142. Our information is Emily Einwald 937-499-0689 Penny White 330-285-8842 or email us at emilyeinwald@gmail.com
---
REWARD!!! LOST - DATE UNKNOWN -- Ashburn, VA -- Duma -- Miniature Schnauzer --
12 year old male salt & pepper, clipped ears, docked tail, brown spot on one eye , friendly, shy, scared, heart murmur.
---

LOST AROUND DEC. 20, 2019 - Wintergreen, VA --
Please help us find this kitty!!! She was given to someone who lives in Wintergreen and she got away from them. Boots has been missing about 3-4 weeks. I was told that there is a colony of cats somewhere around the golf course that people feed and that she might be there. This is the only information I have about any location where she might be. I know it's a long shot that she will be found but any help finding her would be greatly appreciated. Her name is Boots and she is about 1 1/2 years old. She is petite, short legs, gray with little black stripes running through her hair and has white feet and a white chest. She is a very sweet little girl. Please let me know if you get any information on where she is. Mike and Debbie at
ushuffs@embarqmail.com
---
POSSIBLE RECENT CITING DEC. 20, 2019 --
tip that Goose has been seen near 517 Sussex which is right near college of Lynchburg. If she's on that campus it would explain why no one has seen her, because the kids are on winter break right now. I called campus safety and emailed them a copy of the lost poster.. here's hoping I find her soon!

LOST DEC 16, 2019 - Deacon St, Lynchburg - Husky --
My dog Goose somehow got out my home Friday. A friend I was trying to help just let her run out my front door, and I have not been able to find her. My Dog is epileptic and without her meds she will have seizures and or a possible cluster event. She is microchipped. She's a pure breed husky (Klee Kai). She weighs 45-50 pounds (miniature husky). She's white, grey, and black with a little reddish tan and grey circular patches around her big beautiful blue eyes as well. If you see her, please contact me so I can medicate my dog and make sure she's safe and get her home. Goose is my entire heart; the closest thing I have to a child. It's almost Christmas and my baby is lost, scared and sick somewhere. I lost my father almost three years ago and Goose was my loyal best friend that never left my side. When I woke up crying in my sleep, my Goose was right there giving me kisses and cuddling up right next to me. I wouldn't of made it through the loss of my father without her and now that she's missing it's like I've lost my dad all over again. All I want for Christmas is my baby…my dog. I'll go anywhere or do anything to find her. If there's anything you can do to help get her story out and bring her home I would greatly appreciate it. I moved here to Virginia to study Zoo and Wildlife conservation biology because I was so inspired by the work your rescue does. If anyone can find her it would be your rescue and fans!
Please anyone who reads this… share it and please.. please help me find my Goose. My baby needs her medication and she hasn't had it in four long days She was lost at 62 Deaton St, Lynchburg, VA 24503. My number is 224.258.7122 and my email is: jacogoldie81@gmail.com Thank you again for anything you can do and whoever helps me get her home will be my HERO!! A fan, animal lover, and supporter, Goldie Jaco

---
FOUND DEC 20, 20019 - Wintergreen/Stoneycreek -
This DSH black neutered male cat was found in Stoney Creek. If this is your cat, please call the shelter at 434 263-7722.
---
FOUND DEC 19, 2019 -
This stray cat is at Almost Home on a five day stray hold through 12/23/19. If this is your cat, please call the shelter at 434 263-7722.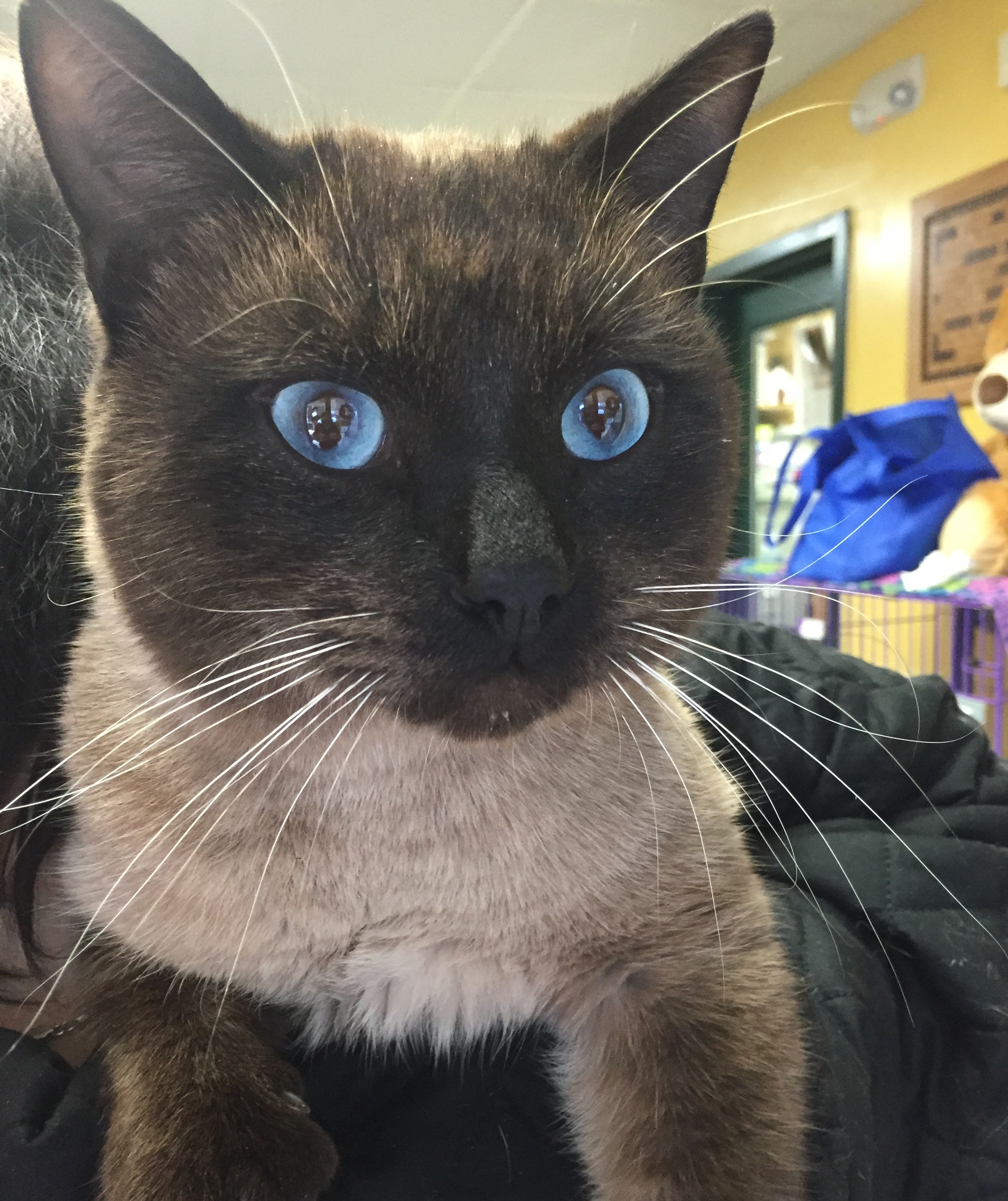 ---
FOUND DEC 6, 2019 - PARKING LOT NELSON COUNTY SPCA/ALMOST HOME --
DSH black and white female cat was found wandering on the parking lot at Almost Home, three miles north of Lovingston. She was wearing a purple collar with polka dots. She is currently on stray hold at Almost Home until 12/12/19. Please call if she belongs to you: 434 263-7722.
---

LOST DEC 2, 2019 - 683 Maple Run Rd. Amherst --
Border Collie, neutered male, 6 years old. Fully clipped. Quite overweight. Very sweet. If found, please contact Suzy at 434-941-1288
---
LOST NOV. 28, 2019 - Springvalley Rd, Afton -
Jackson is a male pitbull mix, medium sized, brown with brindle. If found, please contact Tiffany at 434 228-5399.
---
UPDATE NOV 2, 2019 -
I am really sorry to say that Houghton was found deceased on the shoulder of West bound Rt. 250 going up Afton Mountain. The owners had a hole in the fence from some trees that had fallen and had been working on repairing.


LOST NOV 1, 2019 - LAST SEEN AT BIRDSALL LANE, AFTON --
Houghton is a golden retriever, dark golden (almost reddish in color) weighing 60 pounds. His tongue has several black spots on it. If found/seen, please contact Matt Thompson 540-834-3447 or Lauren Thompson 908-627-1189.
---
FOUND OCT 25, 2019 - 2000 Block of Greenfield Drive, Afton --
Hocus, a black 2-3 year old female cat (at the bottom of the picture), and Pocus, a 2 year old black and white male cat, were found Friday, Oct 25th. Both cats had a micro chip from Richmond, VA. However, the phone number associated with the microchip is no longer valid. If these cats belong to you, please call 434 263 7722.
---
LOST OCT 15, 2019 - 4183 Tye River Road, Amherst --
Our red coonhound, Ellie, went missing from our property about 9 pm on Tuesday. She is 8 years old. This picture was taken when she was young. She has gray around her face/brown area. She is friendly and has no collar. I am afraid she has been hurt or sick and could not make it back home. She never goes out of our yard. She has not been feeling well, and we were going to take her to doctor Thursday.
---
UPDATE: OCT 19, 2019 -
Sadly Henry's remains were found this morning.

LOST OCT 13, 2019 - Near Batesville, Burnt Mountain Road --
Short haired domestic gray and white neutered male with white tipped tail, approximately 7 years old. If found or seen, please contact Amy Brudin at 434-996-3113 or email her at
amybrudin@gmail.com


---
LOST OCTOBER 14, 2019 - Charlottesville - Sunset Ave. & Rivana Trail - LAST SPOTTED ON 10/15 at Kendra St. & Old Lynchburg Road, So. Albemarle --
Trapper is a German Shepherd mix, Male, black top line and brown underbelly and legs, 45-60 lbs. Lost on 10/14 in Charlottesville at Sunset Ave and Rivana Trail and last seen on 10/15 at Kendra St and Old Lynchburg Road in Southern Albemarle. If found or seen, please contact Michael Collins at
michaelcomptoncollins@gmail.com
and 540 661 7379
---
LOST SEPT 2, 2019 - last seen 4273 Burton Rd, North Garden, VA --
Matrix is an all BLACK long haired Maine Coon/Tabby with green eyes and a very long and high pitched meow. He usually comes when he is called. He's skittish but loving and trusting. If found or seen, please contact Emily Rose at (434)326-3974 or email:
mosswillowsunflower@gmail.com
---
FOUND SEPT 2, 2019 - Bell Flower Lane, Stoneycreek (WINTERGREEN), VA --
This dog was found in the area of Bell Flower Lane and is currently located at the Fire Station. Please call 434 325-8538 to claim.
---
LOST AUGUST 29, 2019 - Route 626 Wingina, VA -
White male American Bulldog
---

LOST AUGUST 16, 2019 - 2304 PHOENIX ROAD, ARRINGTON --
Puppy went missing from 2304 Phoenix road in Arrington at about 8 am. Please contact me with any info. Male 10-12 lbs. Pit mix 434 465 7190
---

LOST AUGUST 5, 2019 - FRONT STREET, LOVINGSTON --
Our cat Ellie Mae is missing. She has been since Monday. She is missing a chunk out of one of her ears. She is no longer wearing her collar. If you see her please email me at lucas.emilyc@outlook.com or call 434-944-3617.
---
LOST JULY 24, 2019 - STAGEBRIDGE RD NEAR STARVALE LANE --


---
FOUND: JULY 11, 2019 - STEVENS COVE ROAD, LOVINGSTON -- Young Black & White Male Cat -- This mostly black with some white male kitty showed up about a month ago. He has been to our house off and on. At first he was just at the edge of our yard. Now he is wanting to come in and we have dogs and two cats and cannot keep him. We have started feeding him because he is hungry. He is starved for attention and think he must be someone's lost pet. If he belongs to you, please contact Leigh at 434 401-8131 or email lharlow@nelson.k12.va.us