---
LOST AND FOUND ANIMALS
Nelson County, Virginia Area
---
Instructions for Posting Lost and Found Animals on this website
As a community service, Nelson County Humane Society/SPCA will post photos and information about lost and found animals here in an effort to help reunite animals with their owners. To post an animal, please email our webmaster at sybil.martino@gmail.com. You will need to provide:
(1) animal description (breed, color, sex, size),
(2) your contact information (email and/or phone INCLUDING AREA CODE),
(3) location AND date animal was last seen/found INCLUDING TOWN/CITY, and
(4) a photo (if possible).
(5) WHEN PET IS LOCATED, PLEASE LET KNOW SO WE CAN REMOVE POSTING!!!

If you are looking for your pet, please check back here OFTEN as LOST/FOUND animals are posted continually and as soon as possible after information is received by the webmaster. Check the bottom of this page for tips on how to find your lost dog.
Do you have a Facebook Account?
If so, you can post Lost/Found animals via "Lost/Found/Free Pets Nelson County, VA"
---
UPDATE: JAN 3, 2020 – WITH THE HELP OF DEDICATED NELSON COUNTY/SPCA VOLUNTEERS FLOWER & ED… After being lost and on his own for 5 days, Miloh is now safe and back at home with his family. His family was amazing to work with and so was Lisa of Southern Comfort Lakeside Resort. When Miloh's mom arrived today she did everything we asked her to do and it worked. We saw Miloh 3 times during the day but he would not come to any of us. At 1:30 pm Ed set a live animal trap borrowed from the Almost Home shelter, Tammy gave us cat food, and Miloh's mom checked the trap from afar regularly. BINGO. At 8 pm he was finally in the trap. This photo of Miloh and his dog sister Fifi (Chihuahua) was taken one hour after Miloh was caught in a humane animal trap (lured in by smelly, wet cat food) and had a warm bath. His mom will take him to the vet today to make sure all is well with him.

LOST DECEMBER 29, 2020 - "SOUTHERN COMFORT" LAKESIDE CABIN RESORT, 2781 ADIAL ROAD -- Miloh escaped from 2781 Adial Road in Nelson County on Tuesday, Dec 29 at 8 PM. He is a small 15 pound, 2-3 years old, miniature pincher/dachshund (mix) with black hair and tan highlights. HE DOES NOT KNOW WHERE HE IS. He loves other dogs but is very shy around people he does not know and HE WILL RUN AWAY from them. IF YOU SEE MILOH DO NOT CHASE HIM. INSTEAD, CONTACT US immediately and give us the exact location and time that you saw him. When he escaped, he was wearing a red/burgundy collar with our phone number on it and he has a microchip. PLEASE help us get our newly adopted little guy back home with us! Cell(s)/text: 703-625-0277 (Laura) and 240-988-3655 (Michael) -- Email(s): lcastillopage@hotmail.com; lgpage1971@gmail.com; lgpage@verizon.net
---
DATE: DECEMBER 18, 2020 -- LOST CAT - ROCKFISH SCHOOL LAND/PAUL'S CREEK ROAD -- Below is a picture of Sassy, she is about 6 months old. She ran out yesterday morning near Rockfish School Lane/Paul's Creek Road. If anyone locates her you can contact me at (571) 814-8508. Thank you in advance, Brittany.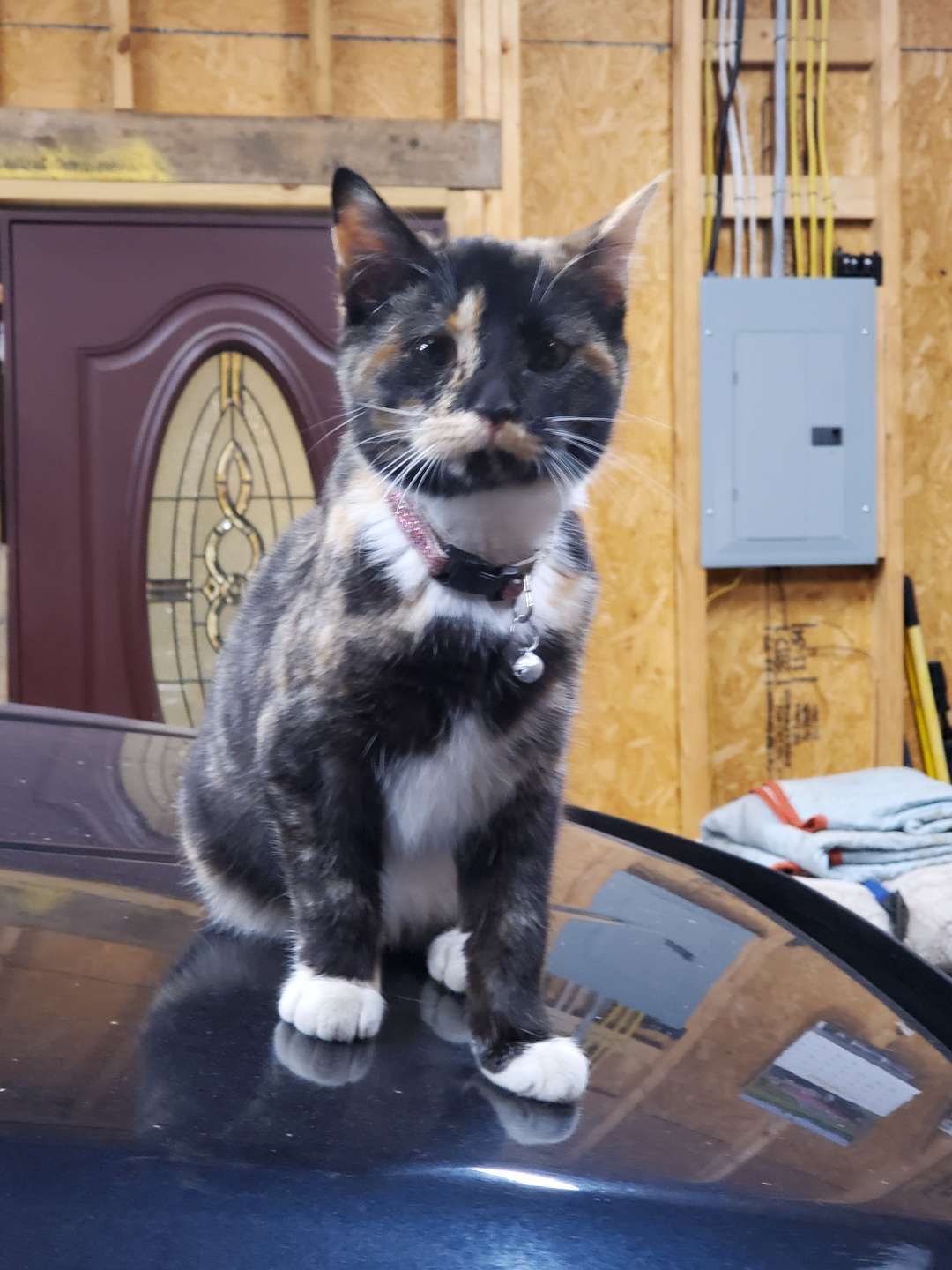 ---
UPDATE: NOV 14, 2020 - Great news. Elisha has been found.

LOST - NOV 11, 2020 -- 1856 MONOCAN DRIVE, WINTERGREEN, VA -- Great Elisha is a 20lb Siamese, short haired, blue eyed cat with peach colored markings. Last seen on Nov 11th. Missing from 1856 Monocan Drive. He's friendly and needs his MEDS. Please contact Ann Mische 571.213.4799.

---
FOUND - NOV 10, 2020 – STONEYCREEK, WINTERGREEN, VA – Yellow tabby cat showed up at Katherine & Sam Shaver's house on Stoney Creek East today, and he seems too tired to move on. He is very friendly! He has a bobbed tail, a flea collar and a collar with a green & blue tartan cloth bow. If you are missing your furry feline friend, contact Katherine Shaver at 434-806-8837. This cat is now at Almost Home on a ten day stray hold so phone 434 263-7722.
---
UPDATE: SEPT 16, 2020 - CeCe was found last night! Thanks again for your help.
LOST SEPT 15, 2020 - 696 ROCKFISH SCHOOL LANE, AFTON -- CeCe is a Black and white, Female Tibetan Terrier, weighing 18 lbs. She is 13 years old and cannot hear very well. She will most likely run from you. Please do not chase. She is unfamiliar w/area. If seen, please contact Joyce at 703-405-4632 or email atg joyce.gillcash@gmail.com
---
LOST AUGUST 28, 2020 - Foxfire Christmas Tree Farm, Scottsville, VA -- REWARD - Jack Beagle Missing from Foxfire Christmas Tree Farm. Last seen 256 Mtn View Rd, Scottsville. Wearing 2 blue collars, one with small FI tracker, one with name & phone #s; Collars may have come off if he was attacked. Microchipped. Please call (best) 434 286-3445 or 286-4299 or (cell) 434 996-7223. Elizabeth (Betsy) Samuels. Reward $500